All I Can Say is #HillYes
Oh Missive, a dream of mine came true last night. I was there on the ground last night when Hillary Clinton became the Democratic nominee for President of the United States. And it was absolutely glorious, and this was my first convention, so please excuse me whilst I freak out a tad.
You see, I'm in Philadelphia helping a few clients on events at the DNC, and while I wasn't going to stay and didn't have a pass, I was persuaded to stick around (spoiler: didn't take much.) So thanks to the generosity of a friend from college, I found myself with DNC hall credentials, sitting in the upper stage left mezzanine as the crowd went nuts after Sanders called for the suspension of voting for nomination by acclimation, and Hillary was declared the first female nominee of a major party. It was electric.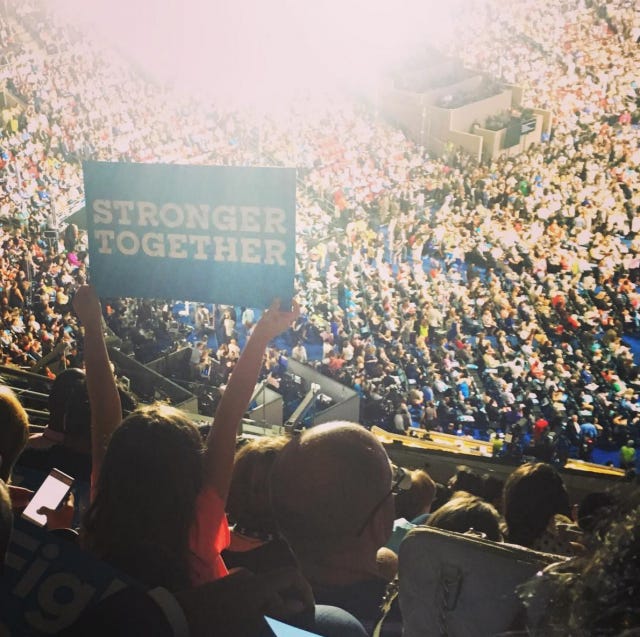 Such a fascinating evening to observe, the logistics and stagecraft of the event especially. Because everything is constantly moving - from the volunteers passing out speech-specific signs every 15 min, to the waves of delegates moving in and out of the convention floor, to the digital projection backdrop that shifted from textured wall to waving flag. We could see speakers prepping, striding onstage, working the crowd and, in some cases, dancing their way off (Donna Brazile, you are the best.)
Additionally, you could really tell which speakers really owned the crowd. When the Mothers of the Movement spoke, the most powerful moment of the evening IMHO, I heard sniffles and sighs around me. Madeline Albright had more laugh lines than I expected. And the room was still and silent for the first half of President Bill Clinton's speech as he did what we're not used to hearing him do - talk almost exclusively about someone else. And he did what the spouse of the nominee spouse: introduce us to the caring, empathetic human candidate that isn't present in the headlines.
Last night celebrated just how historic a moment this is. I was so lucky to be sitting with my most politically inspiring friends, two entrepreneurs and leaders who kick ass on opposite coasts and have helped shape my political activity over the past few years, Christina Gagnier and Christine Murphy. We laughed and gossiped (HOWARD DEAN OMG) and cried and danced and selfie-bombed strangers. It's a night I get to tell my kids about some day.
Schedule will remain erratic over the next few days, but if you're interested in following me as I wander Philly, you can find me on Twitter, Instagram and Snapchat (how do you link to snapchat? search for ehdubs i guess? god I'm too old for this shit.)
Will report back with more tomorrow. In the meantime, I am on the hunt to fangirl out over the BuzzFeed political team.
Peace, love and optimism,
Amy