Awkward Tacos, with a Side of Requested Donation
Happy Friday, my darlings!
I hope you all had a traditional Cinco de Mayo, which I've been told means enjoying a Trump Tower taco bowl over bikini pictures of your ex. Or as I call it, a Tuesday. (I kid, sorry honey!!)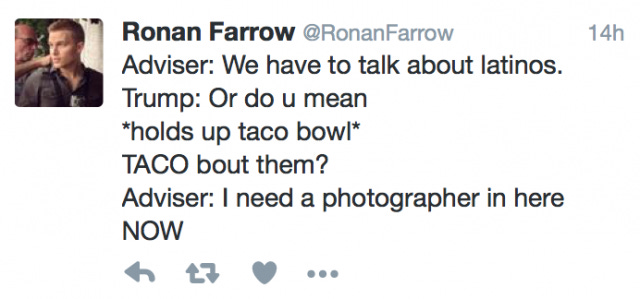 Meanwhile, a Trump aide's ties to Putin are raising security briefing questions, and Paul Ryan, Mitt Romney, and both Bush 41 and Bush 43 aren't quite jumping on the Trump Train.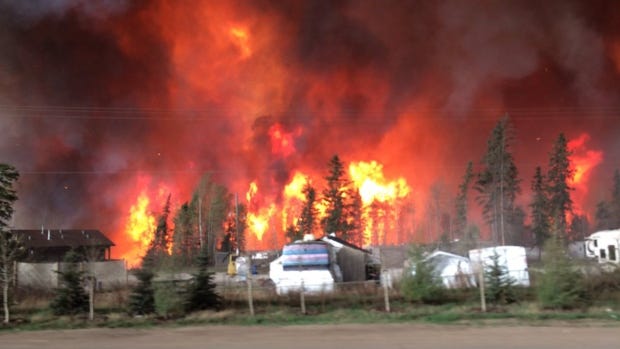 Image via CTV News

My Mischevians, I don't ask much from you, other than a cozy spot in your inbox every morning and your undying affection. But today, I ask for your help: the massive Fort McMurray fire in my home province of Alberta continues to devastate the Northern region.
The entire city of 90,000 people has been evacuated, and an additional 8,000 from north of the city have been relocated. 1,600 homes and buildings have been destroyed. The *entire city* is unsafe and residents have no idea when they will be able to come home. From the BBC: "From across the lake the sight was stunning and horrifying. Fierce winds fanned the flames, and towering conifer trees went up in a flash as if they were matches struck on a box."
In my hometown of Calgary, resettled Syrian refugees are stepping up to help. One refugee reported that "[w]hen she told her five-year-old son, Elie, about what was happening in northern Alberta, he collected his toys and said he wanted to give them to other children who didn't have toys."
So here's the ask: the Canadian Federal Government will be matching individual donations to the Canadian Red Cross, so your help would be doubly awesome. If you can, please donate here.

Much love! Have a great weekend.