BART Discord, Congressional Testimony, and Cruz Luvz Cheez
Thank you all for your feedback yesterday regarding being told to smile in the workplace. I received more responses than I had anticipated, from both genders, so I'm going to try and put together a larger piece for next week. In the meantime, please continue to send your stories of being told to smile, I really appreciate them.
Last night, during another BART snafu, whoever was operating the Bay Area regional transportation system's SFBart twitter account providing *gasp* honest answers as to why everything is always broken. The organization's lead tweeter - whose hand I would like to shake, btw - responded calmly and thoroughly to the various riders voicing their complaints.




As Gawker reported, one tweet read "BART was built to transport far fewer people, and much of our system has reached the end of its useful life. This is our reality". And they pointed out how easy it is to complain about public transit, while not thinking about fixing it on a daily basis : Like @iamjohnoliver has said on @lastweektonight, infrastructure isn't sexy - but without it, no one moves. #ThisIsOurReality. And at the end, LA's Metro had this to say in solidarity: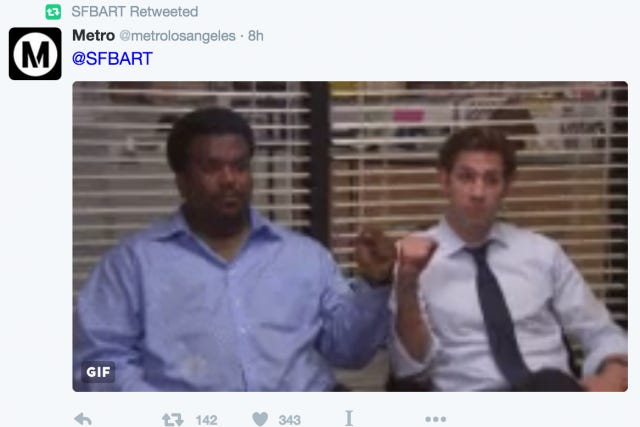 Ted Cruz's favorite food is cheese, and he hates avocados. Republican presidential candidates, they're Just Like Us.
Michigan's governor is testifying before Congress today regarding the Flint water crisis.


And today in stories I haven't read yet but must, right away: How Black People Are Being Shut Out Of America's Weed Boom, "Black Americans were disproportionately targeted in the "war on drugs." Now state laws and steep regulatory costs have left them far more likely to be shut out of America's profitable marijuana boom."

Toodles, darlings!