Bloody Lies, Foreign Affairs, and Death by McSweeney's
Good morning my dearests. I write to you this morning from my hotel room in the Nation's capital, which I am happy to report hasn't been gold-plated as of press time. I arrived on the East Coast on Sunday for meetings in NYC, and then travel down the seaboard via Uncle Joe Biden's favorite mode of transportation. And hey democrats, if we're seriously pinning our presidential hopes and dreams on a 2020 run for a then-78-year-old, we gotta get our shiz together.
FYI - Donald Trump is Time's Person of the Year. And they made Hillary Clinton the runner up, because maybe they had the profile half written last month? I dunno. And reading the line from her profile "Gallup named her the most admired woman in the country a record 20 times, including 14 times in a row" is just extra salt on the wound right now.
And hey, do you need fuel for your waking foreign affairs nightmares? The New York Times compiled background on why Trump's casual calls to world leaders are pretty terrible.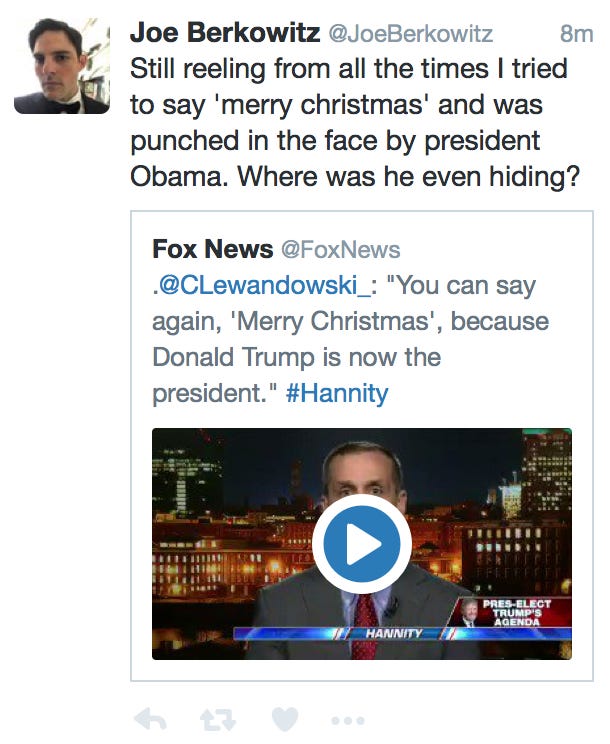 One of the best skits in SNL's post-election episode was their Bubble sketch, and while I am trying hard to not completely devolve into a stereotype, I must admit one of their approved forms of information outlets is having a banner few days. Because nothing distracts me from the reality of current affairs like formerly-smug satire. From McSweeney's:
When you're a venture-funded start up revealed to have lied about fundamental, foundational technology, as Owen Thomas points out, having a BCC-fail in an email pitch to investors is an extra slap in the face. I honestly feel very bad for the (I imagine) admin or assistant who sent it out.
Until tomorrow!