Burn-It-Down Books, Peacock Pose, and Other Displays of Determination
Howdy from Washington D.C., where the trees are in bloom but the temperatures have plummeted. Luckily I discovered an awesome yoga studio across the street from my hotel, so I'm still firmly left coast smug as I start my east coast day.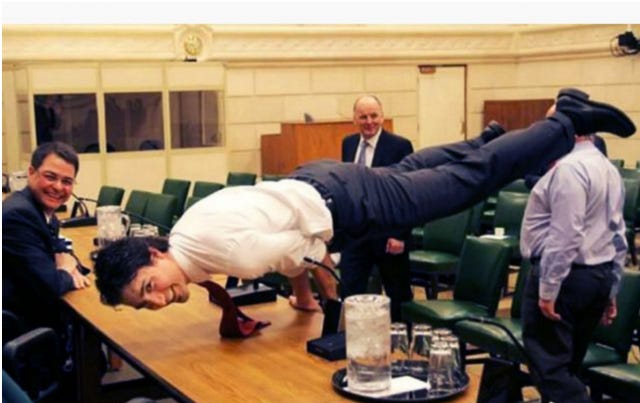 Speaking of yoga, just when I pondered whether we'd reached peak Trudeau, reader Aaron passed along the photo above, an older shot that's now making the social media rounds. In it, the now-PM does Mayurasana - peacock pose - on a table in a Parliament Hill caucus room. FFS, next we'll find out he does parkour to and from work every day.
A unanimous SCOTUS vote yesterday for drawing districts based on total number of people, versus number of eligible voters, thus ensuring "representational equality" in creation of governing districts. The decision was written by Notorious RBG herself.

In case you're looking for something to read this weekend, I'm starting Disrupted: My Misadventure in the Start-Up Bubble by Dan Lyons today. A few years back, while I was doing editor and publication PR at Say Media, I worked with Dan on ReadWrite. He and I got along well, and though the organization didn't work out for either of us, we've stayed cordial since, as we bonded over a similar unease at the state of Silicon Valley coder-worship (this was 2012, I think.)
Let's just say I feel really, really bad for Hubspot's PR team right now: needless to say, I watched his tenure and departure at the company with interest, especially once the FBI got involved and their CMO was fired. I pre-ordered his book in February, and have been waiting to get started, especially after seeing the New York Post book review entitled Millennials are being dot.conned by cult-like tech companies. Is this a sign that the tide is turning on the startup narrative? With commercial rent rates in San Francisco dropping and layoffs hitting the valley, is now the time for someone to write a 2016 Great Gatsby? I'm looking at you Nitasha Tiku and Selena Larson.
And finally, from last week, Our Lawmakers Are Idiots Just Like Us.
Toodles!