Cat Mayors, Weather Confirmation, and Other Millennial Business Opportunities
Good morning, lovely people. It's a chilly morning in East Oakland, and I'm dreaming of a world where cat mayors and spit-on pigeons write the wrongs of this crazy world, wacky cop show style.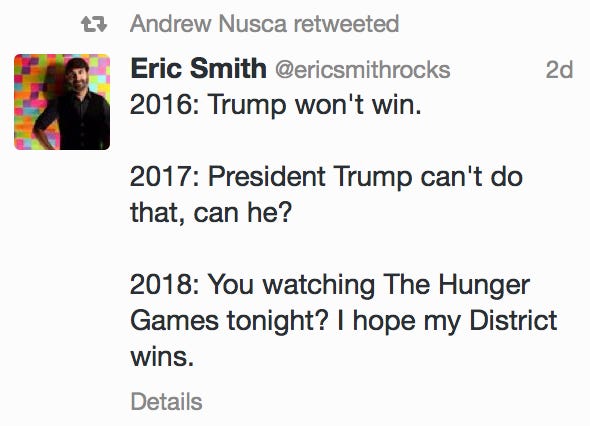 Huffington Post published a piece this morning on conservative think tank American Enterprise Institute's annual World Forum, an off-the-record gathering at a resort in Georgia.
Now normally, a bunch of politicians and businesspeople getting together to talk shop behind closed doors would not a Missive make. After all, these things happen all. the. time., on both sides of the aisle. What makes this particular piece especially delicious is the extra attendees (tech CEOs,) and the main topic of conversation (how to stop Donald Trump.) We know it's serious when Tim Cook is sitting with billionaire Republican donors and Karl Rove to discuss what the actual hell is going on in the GOP primary.
So my question is this: who "leaked" it? I put leaked in quotations because there's no way that one individual decided to break ranks and run all of this info to the Huffington Post. The event is normally so 100% off-the-record that last year Bloomberg couldn't get anyone to confirm the weather. This year, someone gave the reporters Bill Kristol's personal emailed report, which he actually wrote and sent off - not to tell anyone how to do their jobs, but isn't that like reaaaaaaally on the record?
I wonder why a decision was made to coordinate a public story like this. With numerous anonymous sources crossed with private jet flight paths to SJC from public sources, all I can picture is an intense whiteboard session with a photo of Trump in the middle. And if the goal is to attempt to lure away disenfranchised lower-and-middle class voters from Trump, don't ya think that the image of billionaires hanging out with Beltway insiders on a private freaking island plotting to take down their candidate doesn't play directly into their fears of the "establishment?"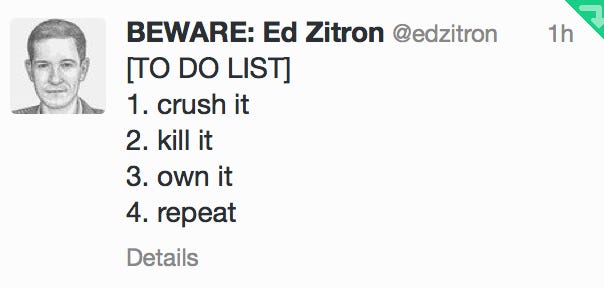 On another note, Hamilton Nolan of Gawker thinks that tech workers should unionize.
"Tech workers are not America's most exploited workers. They are, though, some of America's most envied and celebrated workers. Their declaration of unity with the labor movement would mean more than any individual charitable contributions they might make to try to salve their conscience."
This, considering millennials are "increasingly being cut out of the wealth generated in western societies" with pensioners seeing "significantly higher disposable income growth" while we have "scarcely higher [disposable incomes] in real terms than... 30 years ago." Hat tip to the fabulous Greg for sharing that Guardian piece.
And finally, a sleep deprivation study showed that people perform about as well after a week of getting six hours of sleep a night as someone who'd been up for two days straight. Great.
Toodles, my loves!