Dogs Are Too Damned Good For Us, and Other Important Things.
Good morning! This weekend, I went to the dog park. While there, I snapped a picture of our friends' pupper Woody.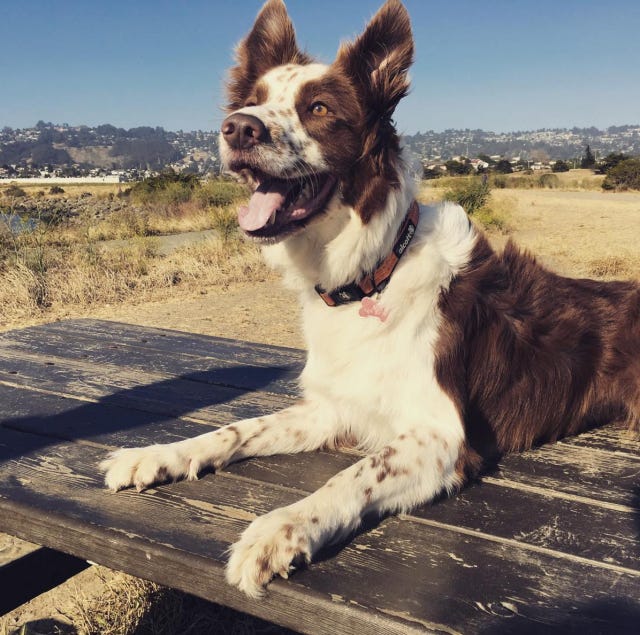 Which led to this amazing exchange with Woody's mum: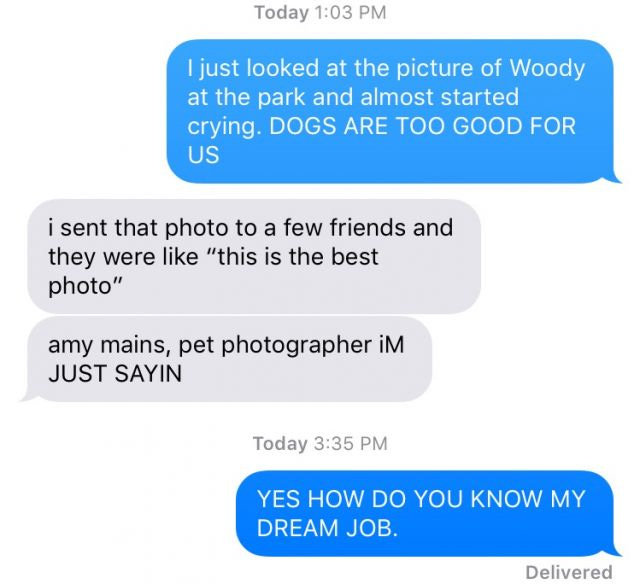 ANYWAYS enough doggo love, let's get to it.

If you're not reading Racked right now, you're missing out on a delightful daily mélange of fashion news, sale curation, and well-reported journalism centered on the impact of the clothing industry on society. This week, they published American Airlines Seems to Be Gaslighting Its Employees Over Fashion, covering the alleged adverse health effects a new uniform has had on the airline's flight attendants. It touches on a variety of pertinent issues, including unions, mandatory uniforms, and sexism in media. This is not a one-off: if you peruse their Longform section, you'll see headlines like America's Massive Retail Workforce Is Tired of Being Ignored, The Impossible Question of Public School Uniforms, Trump, China, and the Ties That Bind and The Complicated History of Headscarves. It's really, really good work.
In completely unrelated news, this week both the San Francisco Chronicle and the East Bay Times covered a new crop of candidates that has sprung up in the shadow of the Trump presidency (my god, I've been gardening too much.) Focusing on women and former Obama staffers, respectively, the Chron and the Times build their stories around Buffy Wicks, an organizer, early Obama staffer, Deputy Director of the White House Office of Public Engagement and head of Hillary's California operation. She also happens to be running for State Assembly here in my district in California.

I was at one of her living room listening parties attended by local Bay Area organizers and Obama/Hillary alum, and my god, it was heartening to watch someone stand up and field really tough and wonky political questions for over an hour, with a smile and detailed policy answers. And when she was asked why we should spend energy on a local California assembly race when everything is so insane at the Federal level, she pointed to comments that had been made earlier in the evening: right here, in our backyard, we have potholes and poverty, gentrification and affordability issues, snarled traffic and charter school controversies etc. etc. etc. Which speaks to a larger point: while we need to fight for our values at the state and federal levels, we also have to lead, and fight, at home. We have to take care of the communities around us.
And finally, harassed on the internet? Take Erin Gloria Ryan's advice and Write Your Trolls Love Letters. (thx Stefana)
Toodles, darlings! Until tomorrow...