Fancy Cars and Facebook Ads: A Love Story
To start, if you read one thing this week, one thing at all, read Hamilton Nolan's review of the Lexus GS F over at Jalopnik. If you're like me, and an avid reader of the Gawker network, you'll know that Nolan is a champion of the people, and I don't say that sarcastically. He pushed for Gawker to unionize, covers the affordable housing crisis relentlessly, doesn't much care for Airbnb, and criticizes large companies for pushing conservative ideals on their workers. So of course Lexus PR specifically requested that he be the one to review their new car. And it is glorious.
In other news, so this happened: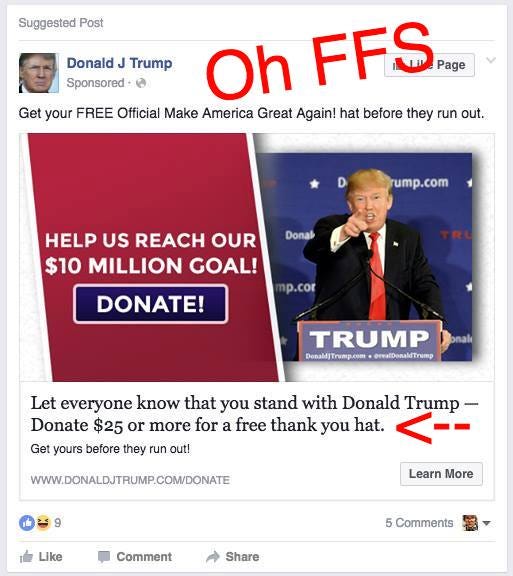 Can someone tell me why the Trump team thought that targeting a female Canadian-American, pro-choice, pro-gun responsibility, fully left coast, anti-ignorance, wannabe intellectual, Uniqlo-wearing, artisanal bread baking, yoga doing feminist immigrant who publicly "Likes" more than one Hillary Clinton page was a good idea? Why do they think I want a Thank You hat? Am I getting trolled by the Drumph campaign right now?
And finally, remember how we all texted a five digit number after the Haiti earthquake, thinking we were donating a few bucks to relief efforts? Your money may have gone to administrative costs: a Senate report on the American Red Cross reveals just how messed up their organizational structure is. Remember my philanthropically-minded friends: Charity Navigator, bookmark it.
Peace and love, darlings.