Forgiving Myself For Not Writing King Lear Or Becoming History Tik Tok Famous
Sweethearts, as I mentioned yesterday, this week I hit a quarantine wall. I don't know if it was the newness and adrenaline of the last two weeks draining away, or the fact that I could REALLY go for a decent Mixt salad right now because I've regressed to a carb and protein diet my pioneer Albertan ancestors would recognize and appreciate, or the realization that I'll likely have no physical contact with another human until May at the earliest and my goodness, I'm a extroverted hugger and that's crazy town.
You see, faced with the numerous things I could be doing, I just wanted to crawl back into bed and hope to wake when this is all over. This, of course, sent me into a bit of shame spiral and my controlling A-type personality took over - I have the time! I don't have kids! I have no excuse to not emerge from this quarantine an enlightened and accomplished human with a fit butt! But instead of watching a Great Courses Plus or doing 50 squats, I sat with a pit of dread in my stomach and wondered if I could even handle a Zoom meeting that morning. It was rough. 
And then Friend of the Missive Katelyn reminded me of this quaran-truth, echoed in a viral tweet I saw in my timeline: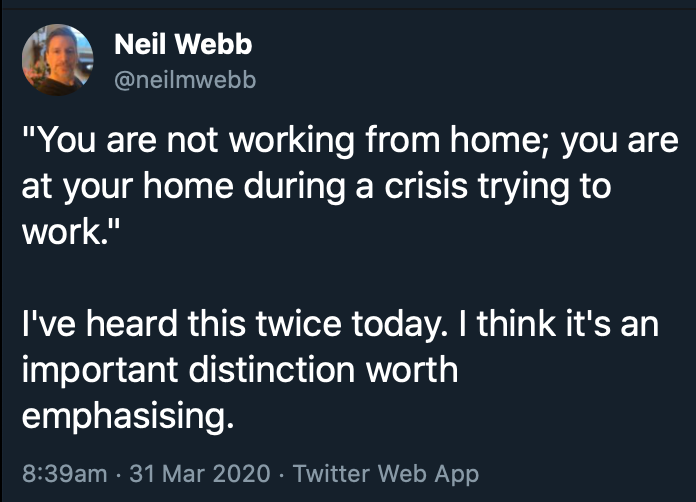 Taylor Lorenz wrote a great piece on why we're not fulfilling our self-determined quarantine goals titled Stop Trying to Be Productive. Spoiler alert: WE ARE LIVING THROUGH A GLOBAL PANDEMIC AND IT IS HARD. It's difficult to not to get pulled into the despair of unfulfilled potential when you think everyone else is writing King Lear since an "urge to overachieve, even in times of global crisis, is reflective of America's always-on work culture." 
Because I want to write the greatest, most moving take on this pandemic. I want to write poetry, write songs, write a novel. I want to put my anxious energy to good use by creating and sharing and achieving. I want to construct whatever silver lining I can through output to validate some deep-rooted desire for maintaining control. 
But we have no control, beyond taking care of ourselves and our families and our homes. We can wake up in the morning, brush our teeth, eat some food, and face another day. That is fundamentally what we can control, and all we can do is breath, forgive ourselves and get through the day. That's scary as hell.
And I don't even have a magical inspiration button to wrap this up with, yet another thing I'm sure my anxious brain will kick myself over. 
So here are more animals reclaiming their space and hey, our welsh goat friends made the NYT! And I normally wouldn't direct you to a tweet storm written by a (checks notes) "thin-sliced frozen steaks" company but sometimes things are so weird and the bit is so committed to and you're laughing so hard at something that I cannot help but share with you all. Wait, who am I kidding. I would TOTALLY direct you to a tweetstorm written by a shaved meat company. Because you deserve social media absurdity right now, and all the time.
Be kind to yourself, ok? And I say that to remind myself, as well.
xoxo Amy