I've got a job for you...
If you're an American citizen, can you do one thing for me this morning?
Check if you are registered to vote

If you are not, register

If you've moved, re-register
AND HERE'S THE IMPORTANT PART.
Go to the social media of your choice and ask your friends to do the same thing:

Here's some sample text you can share:
So yea, let's get to reading.
Twitter account to follow RIGHT NOW: @SickOfWolves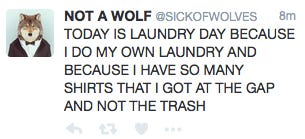 Thing that in no way influenced the instructions above: Trump Jr. acknowledges gas chamber remark as 'poor choice of words, perhaps'
Thing That is Cool but Couldn't Possibly Go Sideways: The Commission on Presidential Debates will be sourcing questions from Social Media.
Thing That Exists in 2016: On 'Dr. Oz,' Trump Offers Placebo Transparency

Nope, no bubble here, nope: former Unicorn media company Mode (nee Glam) shuts down.
And finally, the LOLiest mother / daughter interaction: This Mom & Daughter's Text Thread About Trying To Buy Tampons Is A Drama For The Ages (thank you to all who sent, especially JN!)

I love you guys. I really do.
Amy