Jeb!, Crumbling Cliffs, and Robot Lawyers
Jeb!'s out. The Atlantic states "If Jeb Bush hadn't run for president, Donald Trump would have had to invent him." So this is where we stand with the Republicans:


And speaking of the Devil, Donald Trump won the South Carolina primary, and as the subhead of the Mother Jones coverage states, "this is really happening." It's not a joke: Trump is winning by inhabiting the angry, ignorant, bigoted, jingoistic, doublespeaking id of America, throwing hate steaks to the riled wolves and grinning. And it's working. And it's not funny anymore - even if he doesn't get the nom, his rhetoric has permanently shaped this election, and for the far worse.

Google's Wikipedia snapshot is throwing picture shade: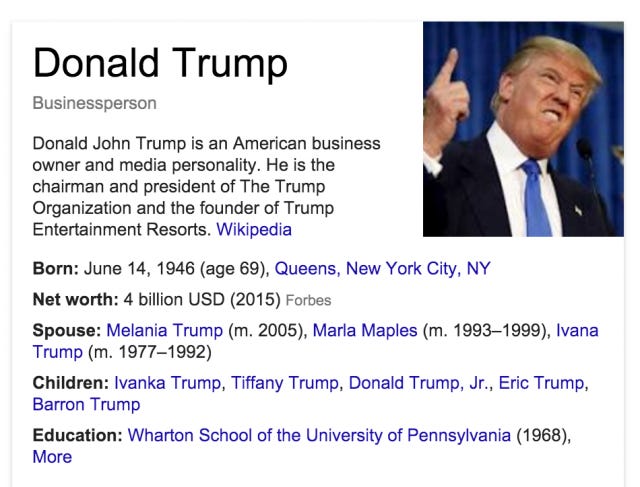 Which reminds me: are you registered to vote?
With all due respect to the many lawyers who subscribe to the Missive, FINALLY Silicon Valley is disrupting something that matters: A 19-year-old made a free robot lawyer that has appealed $3 million in parking tickets. *but seriously, this has large implications in terms of legal actions like immigration applications, and other easily-automated parts of the process that are currently very difficult to comprehend without a lawyer, therefore out of reach to the financially limited*

The gorgeous cliffs of Pacifica are crumbling, and at-risk homes are being torn down.
As a part of my 2016 goal to see more live music, I checked out the Striking Matches at Hotel Utah on Saturday. It was one of the most amazing live shows I've ever seen - they are so so so so so so good. And to add to the awesome, Scott Mulvahill opened for them. Mulvahill sings and plays upright bass - it was mesmerizing.
See you tomorrow, darlings :)