Discover more from The Morning Missive
What has five links and seven jokes? Hopefully this Morning's Missive. All the quick, funny and human tech and politics catch-up you need to get your day started, all in the time it takes you to perfect your Zoom lighting.
Just One Click: My Great Great Great Uncle was Buried Alive?!?!?
My Mischevians, I would ask that you click on over to the Southern Alberta Pioneers and their Descendants and learn about my great great (great?) uncle Ivan and his role in the Battle of Vimy Ridge.
100 years ago this month, all four divisions of the Canadian Expeditionary Force fought for four days to take control of strategically imperative Vimy Ridge, a 4.3 mile-long (7 km) long high escarpment northeast of Arras in France. Vimy Ridge provided an unobstructed view in all directions, and this battle was the first time that all four Canadian divisions fought as a "cohesive formation." There is now a stunning stone memorial on the Ridge, dedicated to the Canadian sacrifice.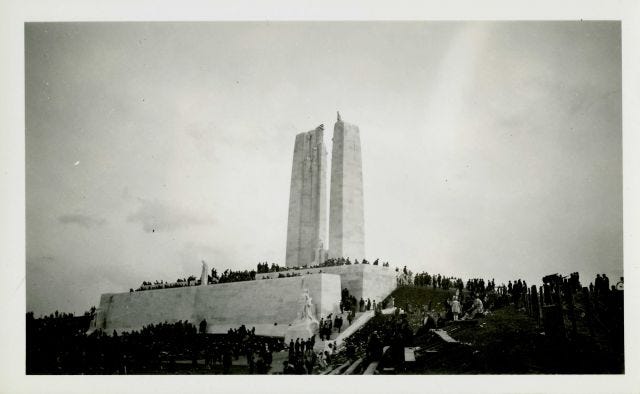 As we know, WWI was awful - if you haven't gone and listened to the many, many hours of Hardcore History on the period, I encourage you to go do so. 3,500 Canadians lost their lives in the battle of Vimy Ridge, and over 7,000 were wounded. My great great great Uncle James Ivan Linton fought, but made it home, despite "a severe wound due to the shelling to his face, right leg and shoulder."
And this is where it gets insane. Much of this information comes from the comprehensive family historical research my aunt Kathleen Rogers has conducted over the years, but there seems to be a buried lede here.
And if you'll excuse the awful pun, because this article states that my Uncle Ivan "was also known to have been buried alive at one time which may have been during this event."

MY UNCLE IVAN MAY HAVE BEEN BURIED ALIVE AT ONE POINT DURING WWI.

Kathleen, I will give you an entire Missive to share this story. I must know more.
Anyhoo, please read up on an absolutely important battle in Canadian history.