My Nervous System Can No Longer Process Good News, Please Try Again Later.
Why hello, lovely humans! Happy middle of the week, middle of the month, near-middle of the year. Can you believe that we've nearly had six months of 2020? I SURE AS HECK CAN.
First off, like (I sure hope) all of you, I was pleasantly surprised that we got good news in the form of a 6-3 Supreme Court decision recognizing that Title VII of the Civil Rights act does indeed protect gay and transgender employees. And, um, the decision was authored by (checks notes) Trump appointee Justice Neil Gorsuch, which felt extra super weird, so I am so glad that Friend of the Missive Mandi perfectly captured why it is uneasy (but still good news!):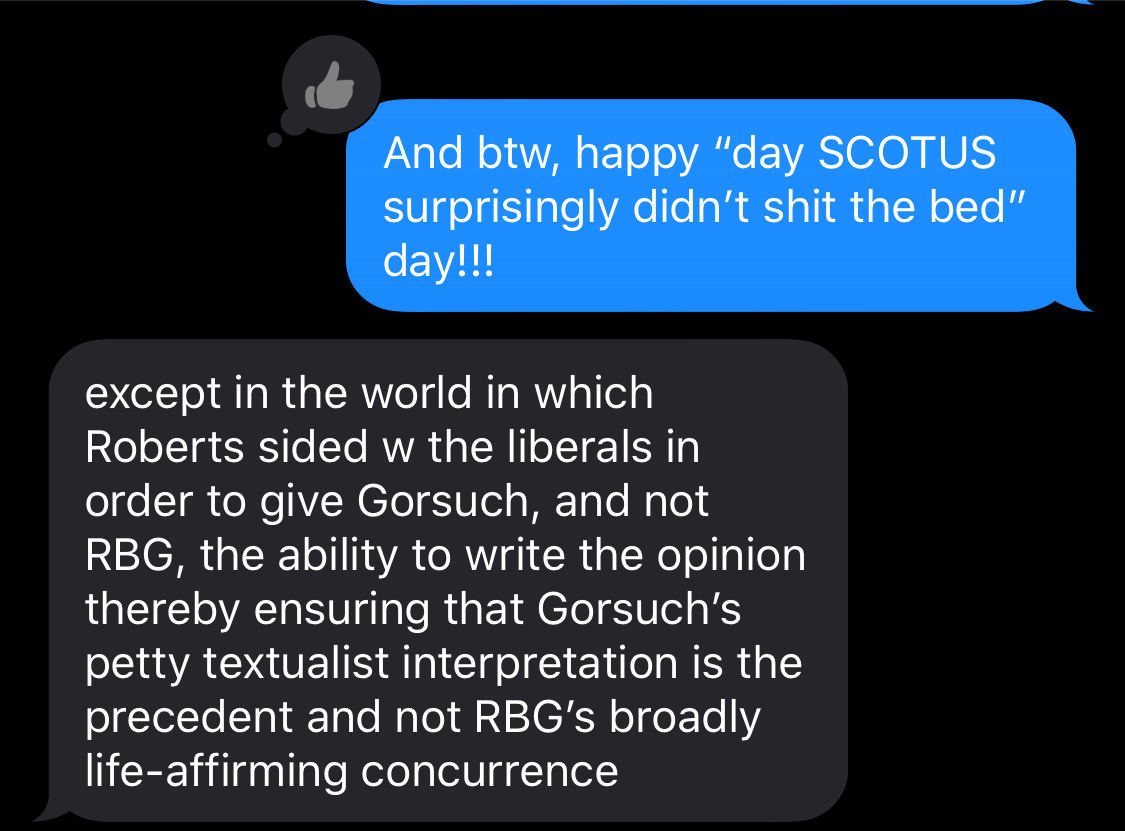 Anyways, let's get back to our comfort zone, which is the still-raging dumpster fire that is year of our Spaghetti Monster 2020:
The Los Angeles Times is reporting that a plane flew into LAX in March—after lockdowns started—carrying a COVID-19-positive patient… and no one bothered to tell anyone. This was when LA had fewer than 250 confirmed cases. In fact, according to the article, "no one in public health informed any of the passengers and crew who had flown cross country with the surgeon that they were at risk. The airline only recently learned of the case from The Times." (Emphasis added because WTAF OMG.) Read this piece for the jaw-droppingly honest quoted from the former state epidemiologist of California.

"A new study shows how turbulence from a toilet bowl can create a large plume that is potentially infectious to a bathroom's next visitor." 🤢 🤢 🤮 Speaking of ways that sneaky 'lil novel coronavirus wants to get into your body and set up shop, back in April, the NYT created graphics illustrating how coughs spread disease, and if you need something terrifying to send a family member who refuses to wear a mask as we reopen, send 'em this graphic:

YIKES.

ICYMI: "Poland Accidentally Invades Czech Republic In 'Minor Misunderstanding'" 2020! Could you Just. STOP.

And in not new news at all, Tim Miller at the Bulwark is a damned good writer: Virginia Race Another Lesson in Trump-Era GOP Cruelty.

And finally, today's self-reflective anti-racist reading is How White Women Can Be Better Black Lives Matter Allies.
You're lovely. Be kind to each other, and to yourselves.
xoxo Amy