New Normal: Blatant Lies and NSFW Signs and Avoiding Social Media
Nothing prepares you for how awkward the colors pink and red look together when you see the heads at crammed departure gates at D.C.'s Reagan airport topped with Make America Great Again caps, next to Women's March vagina toques. Both groups of Americans who'd traveled to their Capital to participate in the democratic process. But I don't think either group considered that, despite their different events, different days, different opinion on the new administration, naturally both groups had to travel home whence they came on Sunday. So as I deplaned, mildly nauseous from a bumpy ride in to Washington, I saw pink hats next to red hats next to what looked like extremely uncomfortable business travelers, all united in their frustration at their airline of choice.
I'd avoided the weekend's events, had a lovely but surreal trip up in my home and native land for my cousin Kate's wedding in Vancouver. It seemed appropriate to be spending time with my formidable female family the weekend of the Women's March, though I will admit to FOMO twinges throughout Saturday.
We'd come up to to Victoria on Vancouver Island a few days previous before sailing to the mainland, spending the evening with another cousin of mine, Tannis. We discussed our fears regarding the current state of American politics, mine from the perspective of the elephant, hers from the perspective of the international bedmate, wary of whichever twitches and grunts will certainly occur, and soon.
We toured the BC Parliament Buildings because, well, history nerd, and when we arrived for the public tour on Thursday, it turned out that we had our guide Ian (an actor from Calgary, of course) to ourselves. We toured the neo-Roman building and learned about how BC's first governor was also in charge of its largest fur-trapping company, but since he was good at both, the people "didn't seem to mind." We looked at the hand-carved canoe created by a First Nation member of BC's Legislature, and examined the inspiring and industry-touting stained glass from a century ago. It was lovely.
Across from the legislative chamber, red-carpeted and crammed with a number of desks not imagined one hundred years ago, a display celebrated 100 years of women and the vote in BC showcased British Columbia and Canadian female politician firsts: first female Member of the Legislative Assembly (MLA), first elected MLA, first female Indigenous MLA, first female Indian-Canadian MLA, first all-female legislative leadership, etc. It was bittersweet to see the Hon. Kim Campbell's photo as Canada's first Prime Minister but like the US, no photo of a female elected head of government.
We woke up the morning of the inauguration in an Airbnb on the water, and watched the sun rise over Saltspring Island. I turned off my phone, except to take an instagram because I was compelled to explain why I was there, and not back in the States. Or protesting. I felt guilty.
Saturday, Cousin Tannis participated in one of the countless international solidarity marches, and got her first taste of what going viral on the internet feels like. Her sign, which I would think would be NSFW except for POTUS's prediction for one of the words on it, was picked up by Pantsuit Nation and has thousands of likes and comments, and is pictured at the end of this email.
I texted her to congratulate her, but also recommend she lock down her Facebook privacy settings and make sure she had a tough password on any public-facing accounts she had. My crisis comms had kicked into gear, fearful that my cousin - read: older sister - might be targeted by the newly empowered "lowercase KKK."
Because while I'd spent the day happily scrolling through celebrations of the March, seeing friends and family share signs and smiles and cries for action, an uneasy lump sat in my stomach as I read about how some women "didn't need to march", how we live in an "alternative facts" age, as the White House Press Secretary lied in front of the press corps and it *sigh* turned into a meme. How Trump's new slogan is the same as the one FROM THE MOVIE THE PURGE, my God you can't make this up.
The road ahead will not be easy, or findable, or hell, even a goddamned road at times. Namaste, my darlings. Now the work begins.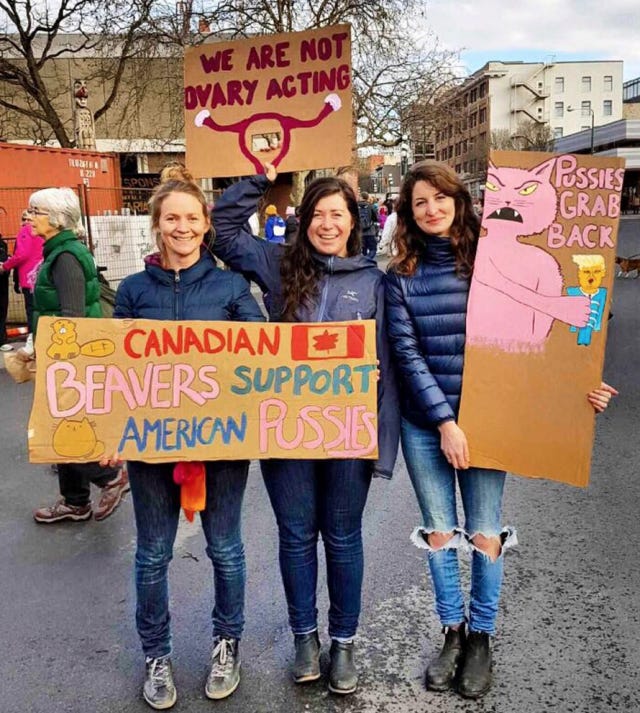 Tannis (on left)