PE: Geek superheroes, happiness optimization and working horses
If you don't think hiring Anthony Weiner at your communications firm is a good idea, you're not in PR.

Megan Smith and AMac at the White House are the geek superheroes we need. Specifically Megan.

Reddit CEO posts a status update that doesn't address the recent female flight from the flaming garbage pile.
Sorry everyone, the internet says you can't feel bad about a rich American killing a lion from a nature preserve unless you give up everything that was specifically bred, raised and slaughtered for consumption.
Let's just get used to the fact that your credit cards, selfies and favorite unhackable p@s$w0rd are probably being lovingly filed in Dropbox by a hacker right about now.
With all that's wrong in the world, it's about damned time our cities optimize for happiness.
How hot is it? NYC carriage horses are not allowed to work because molten sidewalks. How hot is it? Northern California has 4,000 firefighters battling three blazes up north. How hot is it? Climate scientists are predicting it's going to be the hottest year on record.

Other stuff
Read this now - Wired to fail: How a little known agency mishandled several billion dollars of stimulus money trying to expand broadband coverage to rural communities. (Politico)
State of the Union: Donald Trump Defends Mike Huckabee's Holocaust Analogy
Twitter wisdom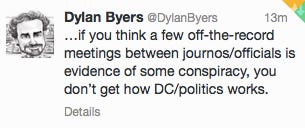 Today in on-camera reactions