PSA: There Are Otter GIFs In This One.
Hey, my loves. Hoooooo boy we need this right now: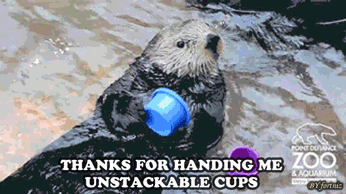 The last 24 hours have laid bare just how serious a global situation we are in. In crises, how data is communicated can be the difference between life and death (see: Tufte's examination of the Columbia disaster.) So if you're looking for an easy-to-follow demonstration of how just one super-spreading patient can impact a population, take a look at Reuters's examination of The Korean clusters.
And remember that in scary times, it is empowering to divide the scary information into what you can control and what you can't. If you can't control something, step away from the internet and figure out what you can, then turn your attention to that. Take five minutes to breath. Write out a list of people in your life to video call. Clean up your kitchen. Register to vote or sign up to register voters. Donate to a local performing arts organization that is canceling their shows. Do some yoga. Call your mom or dad or favorite honorary aunt. Remind your friends and loved ones to wash their hands and flatten that curve. Direct your (deservedly) scared energy towards change you can control.
To stay apprised on COVID-19 updates, please consult the World Health Organization and your local health authority. And if you are able to social isolate, for the love of all things good please stay home, and be vigilant about hand washing if you need to go out.
In non-COVID news,
OK, I'm going to step away from Twitter, make myself a nice breakfast, and set up my WFH area before my video calls start. Be kind to each other and flatten that curve my darlings.
xoxo Amy