Reading List: Bread Butts and Beaches and Tik Docs, Oh My!
Sweet things! It's my birthday month and my favorite excuse to share a gif of 2000's Justin Timberlake, which I probably should have shared yesterday when everyone else did, and the meme made sense (BEHOLD, YOUNGINS. THIS IS WHAT HE LOOKED LIKE BEFORE HE GOT LOST IN THE WOODS.)
Or, in 2020 as JT himself shared on Twitter last night: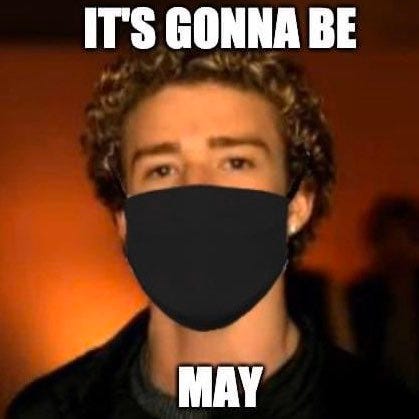 But let's get to the content, because there are many pieces to share with you for your weekend reading, and Reddit has already taken down their chat room feature because of a "site-wide bug" and privacy concerns ('quelle surprise,' say women everywhere, across the internet.)
TO THE LONGREADS!
Meredith Haggerty, The novel frugality (The Goods by Vox) - Sometimes you read a piece so delightfully researched, so snappily written, so very timely, that it makes you mad in that "cute aggression" kind of mad. This is one of those pieces.
Zeynep Tufekci, Keep the Parks Open (The Atlantic) - This is from April 7th, but has been passed around again on news that the Governor of California closed beaches, but then very quickly re-opened many of them after an outcry. And I tend to agree with this piece: with millions of people stuck inside, and haves and have-nots being measured by access to outdoor spaces like yards and gardens, public spaces where people can get a breath of fresh air irregardless of income are important. So I hope that, as California figures out how to re-open, equitable access to the outdoors is made a priority.
Kenzie Bryant, Coronavirus Could Change Dating Forever—And Maybe for the Better (Vanity Fair) - Haven't finished this one yet, but the topic tag says it all: "Swiped Out." And as someone navigating the dating arena whilst cloistered in my apartment, I can tell you that being restricted to first dates via Zoom has been… a good thing? Leading a get-to-know-you conversation with "discussing how you cope with a global crisis" is revealing. And frankly, if you can't picture yourself cooped up in a home for months on end with someone without murdering them… what's the point?
Abby Ohlheiser, Doctors are now social-media influencers. They aren't all ready for it. (MIT Technology Review) - Am I addicted to Tik Tok? Yes. Is it partially because of the delightful doctor content? Yes. And have a told a few of my doctor friends to start accounts because I feel they would be entertaining? Yes, but maybe I shouldn't have.
Charles Duhigg, Seattle's Leaders Let Scientists Take the Lead. New York's Did Not (The New Yorker) - As COVID-19's history is being written at this very moment, critical and reflective pieces like this will create the public record.
Have a lovely weekend, and be kind to each other.
xoxo Amy