Reading List: Cultural Continuity As Radical Act
Dearests! On Wednesday night, I made myself matzoh ball soup and joined a seder via Zoom hosted by a friend and mentor of mine. I had been racing to get work stuff finished, and was feeling extra scattered when I first logged on, but the moment I took a deep breath and looked around the assembled "guests" my blood pressure dropped and I finally relaxed. And while the Haggadah itself was shortened, we still all had it in front of us as a PDF, and still all participated, and still all laughed. And at one point as we attempted to read a section in unison—turns out that's SUPER hard on Zoom—I couldn't stop grinning. You should definitely check out Alana Newhouse's The Power of Passover During a Plague over on NYT.
And I know many are joining their families virtually for Easter this year as well - and that's a freaking miracle. Because despite global pandemic, we're still assembling to observe. There's something fiercely human about doing it no matter what, something magical about tradition and community continuing in the face of calamity. What a reflection of humanity's collective resilience that in uncertainty, we still create fellowship and beauty and light, together.
And then I took yesterday day off: got up, got in the car, and did a two hour walk/hike around Land's End because I knew there would be less people. And normally, when I hike or walk in the city, I do so with a podcast or a playlist on. But the moment I stepped out of the car to start walking, the smell of eucalyptus and salt water hit my masked-face and I instantly relaxed, so I left the EarPods out to listen to the waves and the chatty birds, and it was exactly what I needed after a month of shelter-in-place. And after I walked the labyrinth and looked out towards to Golden Gate Bridge, I was humbled by how small I was.
That relief I felt after the seder and then after the hike, and the gratitude I have for my loved ones and community and surroundings: I will forever count it towards the silver linings of this pandemic.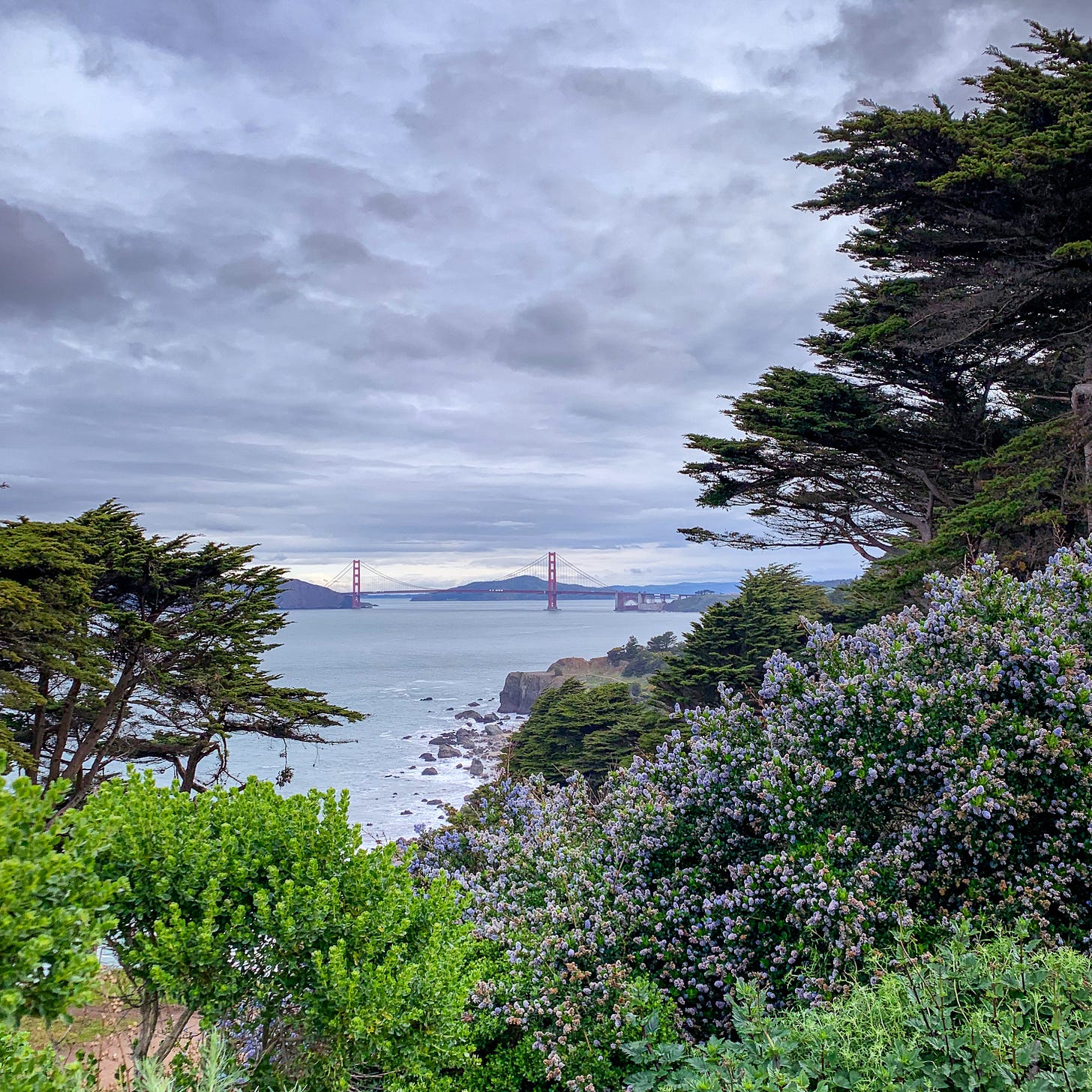 (photo above not from the labyrinth itself, but I like it and get to do what I want 😘)
ANYHOO! Let's jump in!
Jessica Slice, My disability doesn't shorten my life expectancy. Medical rationing might. (The Washington Post) - Slice is a great writer, so this piece on how she and her husband have had to actively plan on how they would present her disability in an ER if she was hospitalized in this time for fear of running afoul of "frailty scores" or other necessary triaging practices in times of medical scarcity is just chilling. And her kicker is just that: "Amid this pandemic, disabled people like me are glued to their screens, worrying about the decisions that others will make for us were we to fall ill. We are listening when you talk about us. We hope you will listen, too."
Teddy Schleifer, These are the trade-offs we make when we depend on billionaires to save us (Vox) - There is nothing I could say about this piece that isn't said better in the piece. So read the piece.
Luke O'Brien, The Far-Right Helped Create The World's Most Powerful Facial Recognition Technology (HuffPost) - Excuse me while I hyperventilate into my best paper bag for a few minutes; I can't think of anything scarier than realizing that the creators of one of the scarier tracking softwares in the world have "have deep, longstanding ties to far-right extremists."
Peter Libbey and Jason Farago, The World's Great Photographers, Many Stuck Inside, Have Snapped (The New York Times) - As we wait to see the art that will emerge from this upending period of isolation, amazing photographers are grappling with their artistic restrictions in their own ways.
That's it, my loves. Stay healthy, and be kind to each other.
xoxo Amy