Staying Sane In Insane Times Or, Why You Should Now Be Dancing To CRJ In Your Kitchen On A Daily Basis.
Darlings! Happy Monday, which I have delineated as Monday by having an alarm go off and a pair of work sweatpants to put on (I kid, they're a pair of super stretchy jeans, but you get the idea.) As most of us start this as the first full week of working from home, I've had a lot on my mind, as I imagine you have as well.
This weekend, I was thinking about whether I keep the Missive a COVID-free zone, somewhere people can get a distraction, a laugh, or a cathartic cry without talk of the pandemic. But here's the thing: in less than a month, it's gone from a medical story of interest to those of us who find Spillover a charming weekend read to a fundamental part of all of our lives. It's all pandemic-related right now, because that's the only way we can get through it.
It's everything. Last night's Democratic debate featured two podiums six feet away from each other and an opening elbow bump (cuz, you know, leaders are supposed to mirror ideal behavior, which is how responsible politicians should behave, instead of modeling the exact opposite behavior in a televised press conference, oh crap, now my eye is twitching.) Parents are contending with working from home on top of caring for kids who suddenly don't have school, and let me tell you, THEY are the real heroes in all of this. Local businesses everywhere are shutting their doors with no open date in sight. And around the world, first responders and medical professionals are on the front lines of all of this, every day, at great personal risk, sometimes fighting awful policy decisions alongside the virus itself. Like I said, it's scary.
But there are glimmers of joy, and a few silver linings. In the last four days, I've discovered the joy of group FaceTime and Zoom with friends and family. On Friday, my extended Hutchings clan across five locations jumped on an uproariously hilarious video call which consisted of us expats showing the homeland family our domiciles, cameos from my cousin's adorable children, and our customary relentless roasting of each other's inability to hold an iPhone at a decent angle.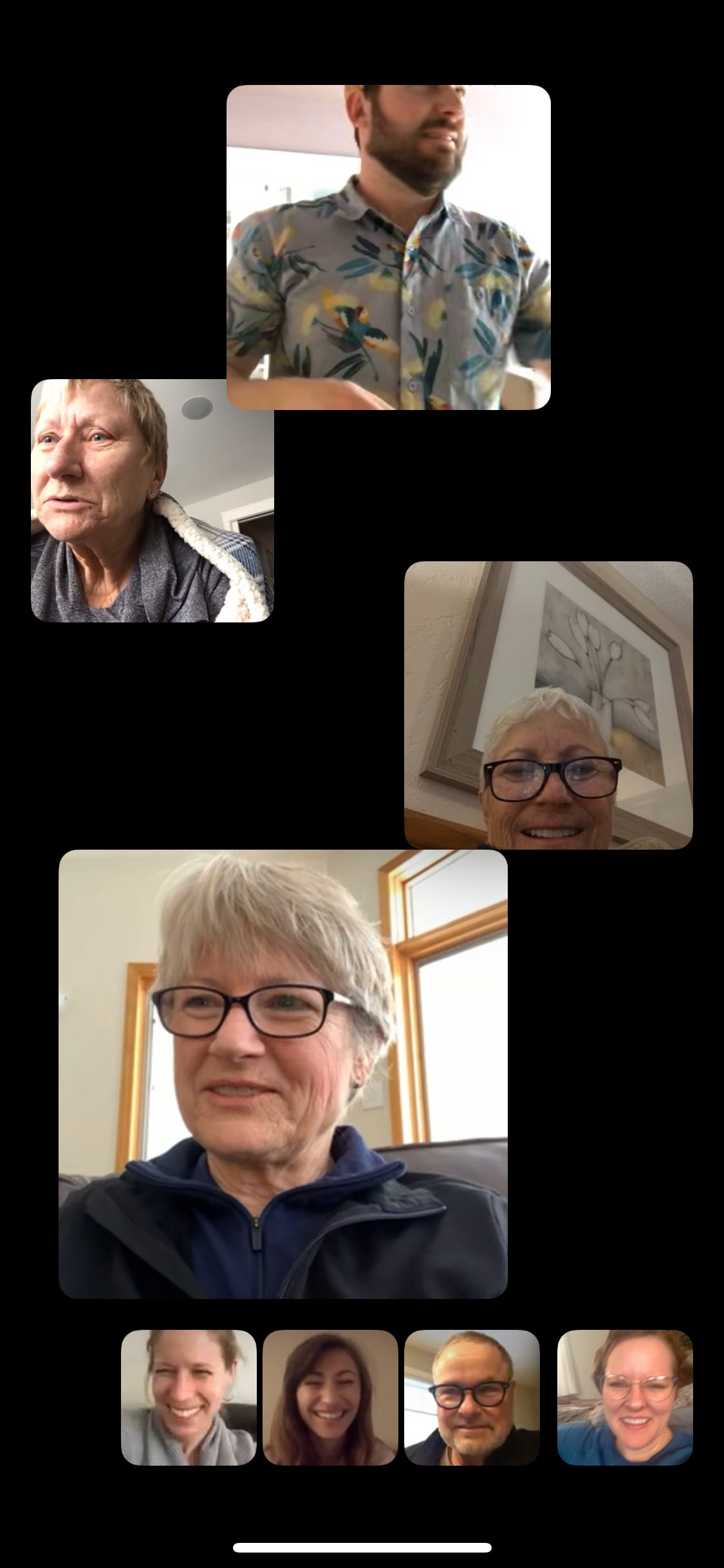 It was joyful and comforting and I just couldn't stop laughing. Then yesterday morning, one of my yoga teachers Stacey Rosenberg hosted a donation-based class where 30 of us got together as she taught from her home, and while I missed the camaraderie of an in-class experience, it was a great way to get a stretch/sweat on, stay connected to the community, and keep up my practice while supporting Stacey's work AND maintaining social distancing. And then last night, a group of friends spearheaded by Friend of the Missive Lilia (hi friends!) did a virtual game night that was both silly and comforting.
Those group calls, as well as the numerous 1v1 conversations I've had via video technology, have brought so much light to the darkest of situations. It's been soothing to know that I can talk to my parents face to face, and that I can have dance parties with friends from my kitchen.
Which, again, isn't to downplay how scary this situation is. As all of you know, I've been interested in the impacts of illness, isolation, and existential events for a long time, so it's eerie to be thinking about how, when phone banking for Hillary in 2016, we'd talk about who we'd rather have helming the ship of a pandemic (but her emails, amirite!?!! AHHHHHH sigh.) I keep thinking about how this doesn't feel like I thought it would when I'd wonder what it was like to live through the Spanish Flu, but living under the Trump administration for the past three years also hasn't felt the way I thought it would, so I guess I shouldn't be surprised.
Because there's no one moment where you have to choose to be brave or to be scared. There's no one questionnaire that you fill out to determine how you emerge from this situation. There's no grand narrative arc to follow, and no clues on how you'll look back on this and your actions in 30 years.
There's only now, and the series of smaller choices that roll up into your larger experience. And it's those choices, those personal decisions, that will ultimately impact how you remember this time.
Because I can't control how the federal government tackles the atrocious lack of testing issue that they created. I can't control the fact that people were still going out to crowded bars on Saturday night in San Francisco. I can't control the news cycle, or the disinformation being spread on instagram, or the fact that I will be physically alone for an extended period for the first time in my life.
But I can control a few things. I can check in often with family and friends. I can take care of my team, and make sure everyone knows it's OK to be scared, and get tours of their apartments via Microsoft Teams. I can channel my desire for control into cooking healthy food for myself, and baking bread for my neighbor. I can stay physically and mentally happy by continuing to do yoga.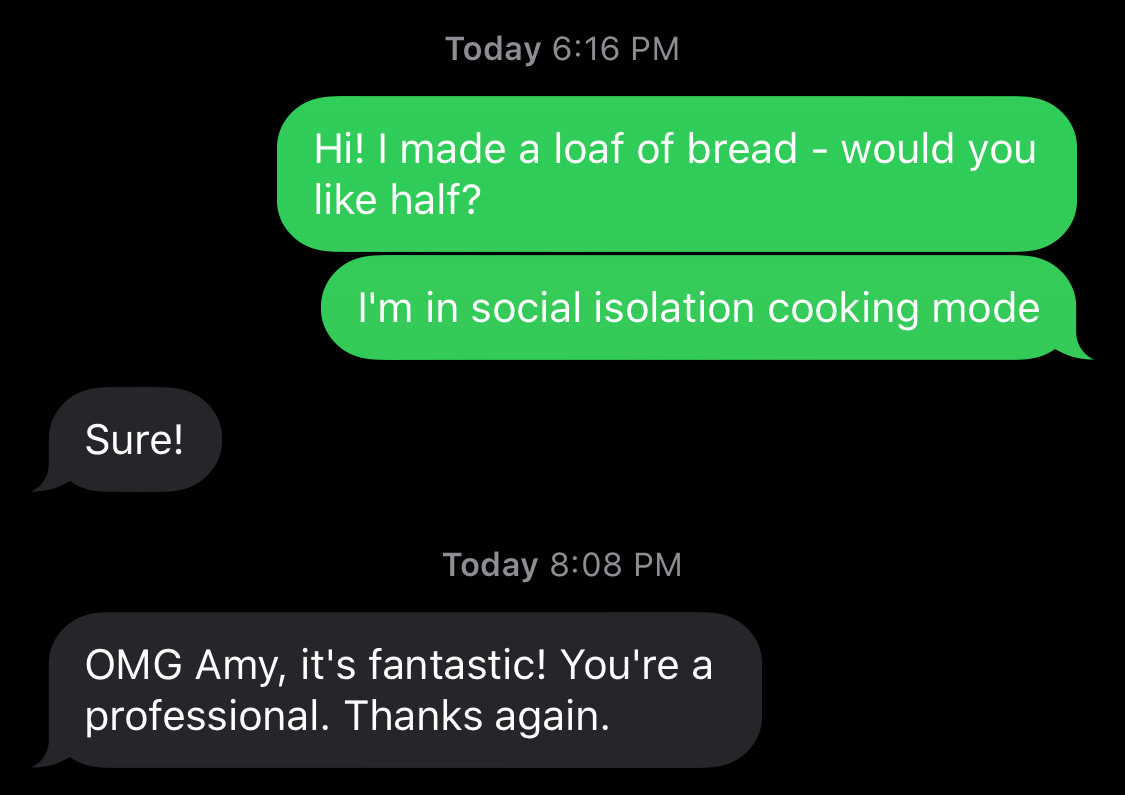 And I am lucky enough that I can write all of this out to you, dear readers, in the hopes that my brain churning may resemble your own, and that we may find mutual solace in knowing that the only way to beat this is to go through it.
I adore you all, and I hope you remain kind to yourselves. Hit me up if you need anything.
So much love,
Amy