Tech Meccas, Top Hats, and Crippling Self-Doubt.
Friend of the Missive Shmuel continues to send us sage observations of the Bay Area, all the way from NYC. He directs us to what he calls the jumped shark "at fucking apogee" in an article about how to raise a tech entrepreneur. Spoiler alert: here's another addition to your crippling parental guilt, you'll never be good enough, so don't even try!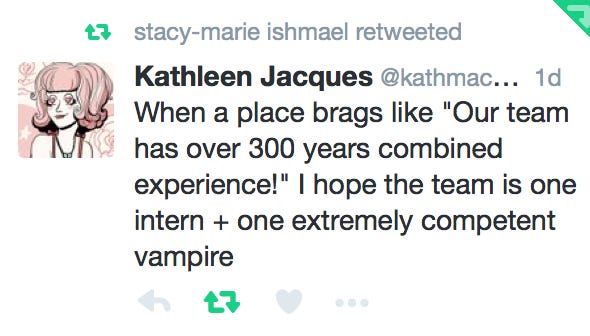 Even more deliciously, he points us to this delightful coverage of a tech-desert-glamping-festival called Further Furture, or "Burning Man for the 1%." I'd never heard of it, but when I see that Nellie Bowles has embedded in an environment we'll surely reference in our generation's Great Gatsby, I read, and fast. In this lawless sandy festival, the pretense of going back to the land or surviving on your own is tossed out the window, as one can attend $250 a plate Nobu dinners, and then stay in a tricked out airstream for many, many times what I pay for rent, for a night. With "smudging aura cleansing," hangover-reducing saline drip bags, and Google's Eric Schmidt in a steampunk top hat, Further Future directly resembles the optimal post-apocalyptic wasteland we'd all like to retire to.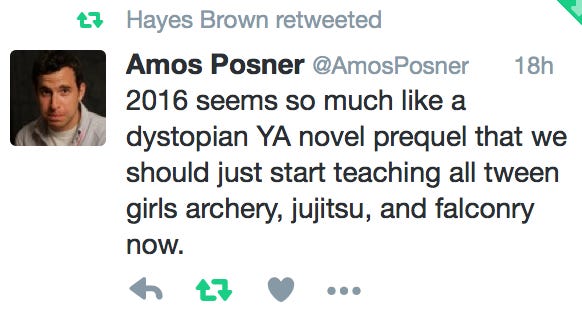 Which reminded me of the heartbreakingly beautiful piece by Anna Wiener on working in tech, Uncanny Valley. Her self-reflection of life in startups in SF circa 2013 has all of the unbelievable office realities captured by Dan Lyons in Distrupt, but replaces the snark with sadness. She paints a bittersweet portrait of an office as an identity, the golden handcuffs of a prayed-for-but-not-to-be stock windfall, and what happens when you are exiled from the tech tribe. This section, in particular, hit way too close to home for me:
"Still, there are days when all I want is to disembark, eject myself into space, admit defeat. I pander and apologize and self-deprecate until my manager criticizes me for being a pleaser, at which point it seems most strategic to stop talking." - Uncanny Valley
Which reminded me of a silly poem I wrote last week after visiting a friend for a kombucha at one of the tech meccas down in Soma:
I stood at an endless parade of Lyfts, Ubers, Chariot.
Sun gleamed on scaffolding and concrete across the street,
and I stared down polished tech possibility,
and my own mortality.
#fin