Thank God For Truth-Telling Twitter Bots
Happy Monday, Mischevians. A couple of quick things to start your week off:
If you're on the lookout for a new podcast to listen to, might I suggest The Dollop? I'm currently listening to today's podcast on the history of Uber and hooboy it's a doozy. The Dollop is an American History podcast in which one comedian reads a story to another comedian who knows nothing about what they're going to discuss. As a history nerd who loves standup comedy, this podcast has (mostly) been the soundtrack to which I've spent 50+ hours over the last month and a half gardening (read: weeding.) Previous episodes I've enjoyed include The Texas Hypnocult, The Birth of Porn (completely and utterly NSFW history of The Mitchell Brothers in San Francisco, like seriously don't listen if you're squeamish,) and The Toxic Woman of Riverside. Dave and Gareth are funny as hell and go deep on quirky American tales - not without a 2015 podcast source plagiarism controversies, I must add - and the podcast has been a welcome respite from our current national insanity.

Have you read American Gods yet? Trying to finish it because of the new Starz series that is actually executive produced by Neil Gaiman and as I'm sure you know, it's really damned good.

If you follow one twitter account this week, let it be RealPressSecBot, a twitter account that reformats Trump tweets into what they need to be treated as: statements by the President of the United States. And Trump's idiotic tweet about the Mayor of London after the recent terror attacks are the reason this bot needs to exist.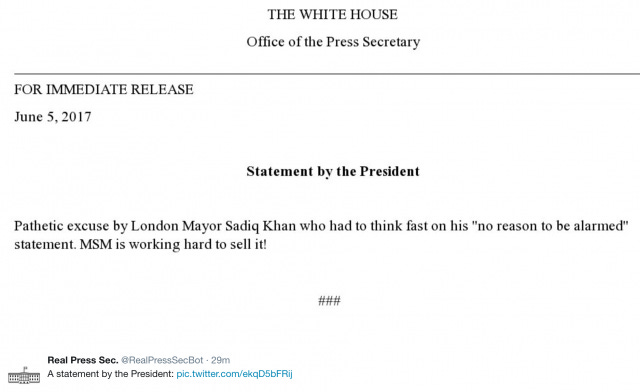 Toodles, darlings!