There's Such a Thing as Cannabis Tastings, and Other Jems I've Learned This Morning
Good morning from the Nation's Capital! It's drizzly but warm, I found the most hipster restaurant I could find for breakfast, and I'm hoping to sneak away to go to the Newseum today at some point. Side note: I really really wish all museums were open late one night a week, like the California Academy of Sciences. Or we should have recess or free periods at work ;) Us grown ups need to nerd out too!

Polling conducted after the Paris bombings reveals that Donald Trump's ratings have only gone up in the aftermath of the attack. In New Hampshire, he is ahead of his nearest rival by a 2-1 margin. And btw that rival is Ben Carson. I mentioned this months ago, but I'm re-reading Phillip Roth's "The Plot Against America" now, an imagining of what would have happened if Lindbergh had become president. You should add it to your reading list.
SV tech moguls are not donating to Hillary's super PAC Priorities USA in the amounts the campaign was anticipating. Notably absent checks include one from Tom Steyer, and one from Laurene Powell Jobs. Jobs was an early backer of Ready for Hillary.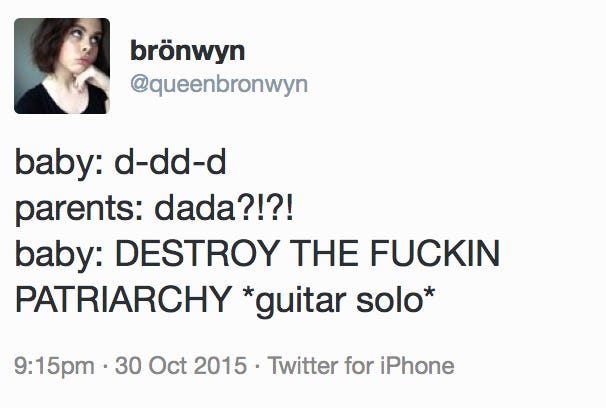 A new study shows that in 2013 Baltimore, "banks made more than twice as many mortgage loans to whites in the city as they did to blacks." And before anyone argues percentage of the overall populace, remember that Baltimore's black population is twice the white population. So the next time anyone asks you what structural racism is, point them to this story.
Square goes public today, priced below the range it set earlier, much less than investors valued it at last year. Should be interesting to watch the stock today, though nothing is more interesting than the beard Jack chose to grow in the photo Jason Del Ray chose for his story above.

Well played with sponsoring a post that kids are sure to forward to their parents, AARP + BuzzFeed ad team. Well. Played.

My friends, I am SUUUUUPER tempted to do BuzzFeed's Crocksgiving, an entire thanksgiving dinner cooked in a crockpot. Anyone else have interesting options for the holidays?

And back on the Left Coast, cannabis tastings are the new bourbon tastings, which were the new wine tasting. I <3 California.
Enjoy a pleasant day, friends! Enjoy this missive from Slack's loading screen.

a reminder that views and bad jokes expressed above do not represent my employer, my clients or my benevolent flying spaghetti monster.