You Get a Podcast, and YOU Get a Podcast, and YOU GET A PODCAST!
Happiest of Mondays darlings! I hope you're having a great week so far, and that if you've ever written a disparaging email about anyone, it isn't currently splashed across the front pages courtesy of Russian hackers. Or that if your flailing company is getting bought, it's for $4.5 billion.
I'm busy binge-listening to RNC coverage and wrap-ups from No One Knows Anything and Off Message, politics podcasts from BuzzFeed and Politico's Glenn Trush, respectively. Both have been updating through the RNC, and hooooooboy it sounded like a doozy. I threw in a soupçon of Keeping it 1600 from former Obama advisors Jon Favreau and Dan Pfeiffer before my redeye last night, so basically I'm a convention politics podcast expert now.
And now, the DNC! Between the leaked emails, Bernie protestors and what is appearing to be the logistics of a high school square dance - see below - it seems like it will be a bit of a cluster in Philly this week. Which is why this new American, while excited about being on the ground for one day tomorrow, is sort-of glad I'm staying in NYC and training down. Because I don't like crowds, I don't like heat, and I sure as hell don't like cringeworthy press conferences.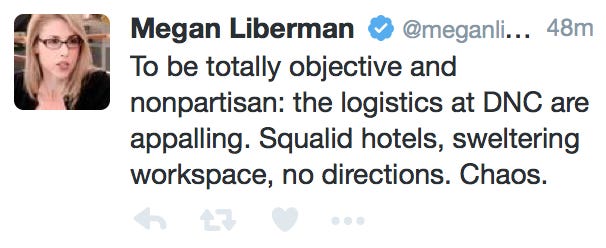 Yikes. Anyhow, if anyone is at the DNC tomorrow, shoot me an email, would love to say hello 😃
Onwards!